Hamburger Bahnhof is a contemporary art museum in Berlin, but was formerly the terminus of the Berlin-Hamburg Railway. The museum is located in the Moabit district, on Invalidenstrasse. Today the museum goes under the name Museum für Gegenwart, and it is a part of the Berlin National Gallery.
The station dates back to 1846, when it was built as the first station of the Berlin-Hamburg Railway. Today this is the only neoclassical terminus building still standing in Berlin, and it is one of the oldest station buildings in all of Germany. Railway traffic shut down at the station in 1884, when the long distance transport was moved to Lehrter Bahnhof.
Early days
The museum is built up largely around a collection of contemporary art that was donated to the city of Berlin by entrepreneur Erich Marx in the mid 1980's. The donation was followed by a decision by the Berlin Senate made in 1987 to revamp the former railway station into a contemporary art museum. The Prussian Cultural Heritage Foundation subsequently agreed to make the museum part of the National Gallery, and in 1989 planning for the remodelling was started.
The work continued between 1990 and 1996, and in November 1996 a grand opening was held. Today the museum exhibits an impressive collection of contemporary and modern art, with permanent loans from the Marx collection containing some seriously big names. These include permanent displays of pieces by artists such as Andy Warhol, Joseph Beuys and Robert Rauschenberg. There is also a Nationalgalerie collection that emphasizes art visualized through film and video.
One of the largest in the world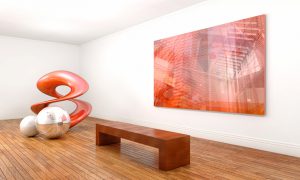 In 2004 the museum was presented with a large collection by Friedrich Christian Flick, and expanded significantly because of this. This collection was given to the museum as a long-term loan. To accommodate the new pieces, the warehouses behind the main building went through extensive renovations and were subsequently connected to the main building. This expansion meant close to a doubling of exhibition space, compared to the previous space, and today the public collection of contemporary art held by the museum is one of the largest and most important of its kind in the world.